Maybe one of these days I will finally stop doing the opposite of what my "better mother" planned to do (i.e. the one who hasn't been here before and still somehow knew exactly what I would do in this situation). I confess that when I saw people with their kids, sitting at the YMCA for a sibling's gymnastics practice, the kid listening to their iPod lost in their own world I judged them. They should be talking to their kid. That kid should be paying attention to their sibling, being encouraging. Being in the real world.
I was wrong. I sat on my high horse and felt sure our family would be different until that high horse marched me right into reality and dropped me in a puddle. I have spent every day in the car home from school with Elise, a very crabby 6 year old who takes it all out on everyone within earshot. I have tried letting her pick the music. I have tried being sure to bring a snack. I have tried bringing books for her. I have tried engaging her in one-on-one talks. None of this has had the power to stop her from melting down after school. She is just can't keep it together.
Finally, I asked her why she was finding it so hard to be calm in the car. Finally meaning in April, the second to last month of the school year (I'm a slow learner). She was so clear in her response, "I'm so tired after being good all day at school I forget that my words hurt people."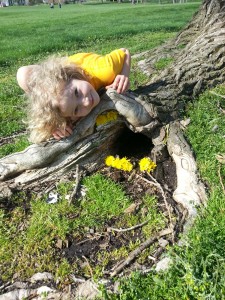 So I got her an iPod shuffle and she listens to it whenever we're driving. She's around people all day. She's going here and there with me all day. She has to be engaged with others all day, whether she's in the mood or not. So, reality has once again shown me how parenting really is, instead of how I thought it should be. I was wrong again, but at least this time I'm not surprised. And now our car is full of peace. No one screaming at anyone, everyone enjoying their own down time after school. And Elise is recharged enough after a car ride to hop out and enjoy a day at the park with her family, engaged and participating with the real world.
I stand corrected.