I'm taking a break from the Gold Rushing series to write a bit about our homeschool. Moving to California afforded us the opportunity to try a whole new life. With the girls still so young, it was not so risky to pull them out of their traditional school experience and see how home education would serve us.
Now that we're a whole month in and some of the first hiccups are past, I'd say that we're doing quite well. Just like with every kind of lifestyle choices, I'm never squarely into one philosophy or another. So our school techniques are reflective of that eclectic dynamic. We're using a montessori-based math curriculum called Shiller Math. We're reading aloud as a family every afternoon. And using the Common Core to keep track of what skills/concepts they're expected to know in Science for their grades and doing the work with books from the library and websites. For Spanish we're going to work through Rosetta Stone together, and for History we're using The Story of the World.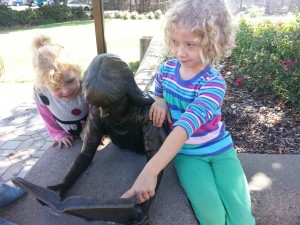 Is this the best plan? I have no clue. But it's the plan for now. It took me this long to get our weekly routine in order. But the daily ebb and flow was worked out very quickly. Daily we start before 9 and school-at-home our way through the morning seat work. Then in the afternoons we do a more un-school, screen-free education method. By 2pm we're pretty much done with "school" and head out for errands or to the park. We enjoy hiking, biking around town as a family, or watching a show to two together.
We have park days two or three days a week with other families who are either homeschooling, or live in our town and have preschoolers Cressida's age. On Thursday we have swim lesson. And I plan to add a couple more activities for the girls as our schedule settles in a bit more.
So that's the quick and to-the-point update on what's going on with The Brazier Academy. Stay tuned for more as we get some photos of our work, and have some fun projects to share… like the sun model we're making out of paper machè.