The girls are becoming quite the eager hikers. Elise now initiates hikes periodically. She and Olivia get themselves ready. They find their hiking shoes, thick socks, snacks, water bottles and backpacks on their own. Cressida still argues with me about footwear. She insists that she is supposed to be "fancy" at all times, even though she has had serious footwear issues the couple of times I have let her wear her mary janes on hikes. After much cajoling I can usually get her to wear her Keens, but it usually involves tears and 15 minutes devoted to the this argument alone. I've even tried some peaceful parenting and clever tools like letting her color all over her Keens with sparkly pens, but that did't help. So I have just resorted to heavy-handed force in the form of, "If you don't put on your hiking shoes you will be on fancy shoes restrictions tomorrow."
Once we get out on the trails though, no one complains about footwear, not even Miss Sparkle-toes. We've been systematically hiking the East Bay region, one park at a time. So far we've done Pleasanton Ridge, Sunol, Redwood Regional Park and Mount Diablo's Summit Trail (starting at Juniper Camp Ground).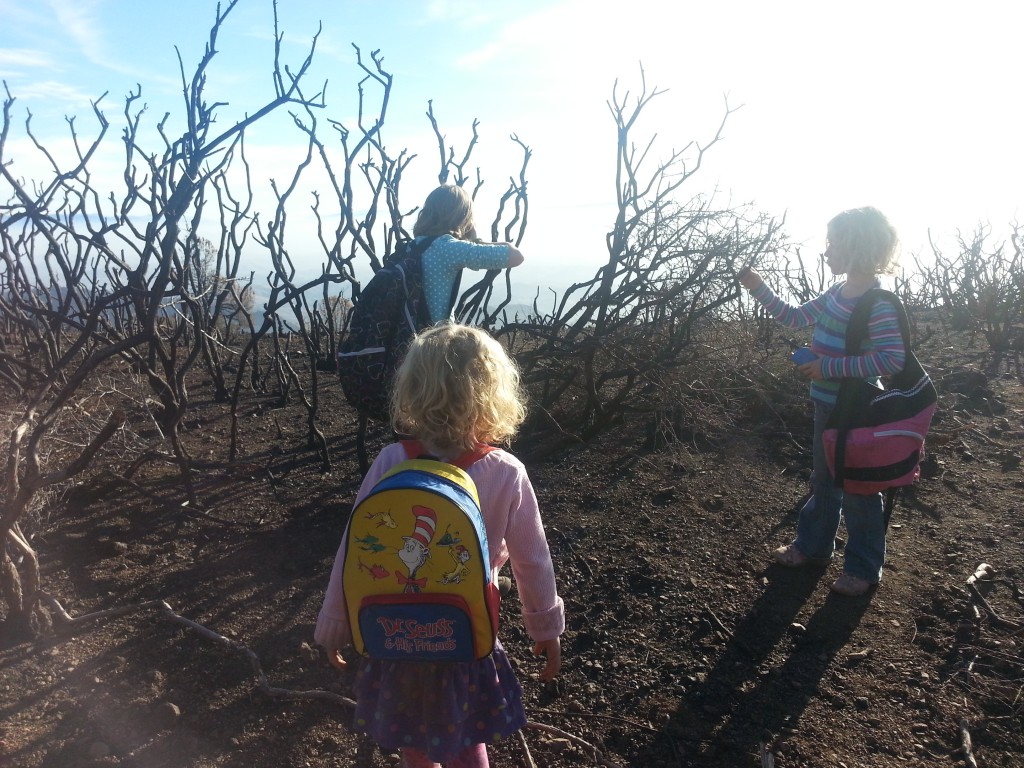 Here are the girls exploring a burned area on the top of a ridge on Mount Diablo. A couple of weeks after we moved here we were at a homeschooling park day and the moms were talking about how they could watch the wild fire burning on the mountain from the park. The fire was just a couple years ago. It's interesting to have moved from such a lush green diciduous region like the Cuyahoga Valley where there are muddy spots year round, to a place like California where the waterfalls are seasonal and wild fire alerts are posted year round.
 I'd like to do a hike at least every other week with the girls. And I'd also like to get some chances to solo hike. I'd like to do   Mitchell Canyon to Eagle Peak as a solo hike, or with Rob if we can find an all day babysitter. Back in Ohio we were able to drop the girls off with family and go out all day, or hit the trails when the kids were in school. But those days are long gone. I need some Aunts or Uncles to move out here… Any takers?