Last year we put up our tree in our new house for the first time and I felt a little bit like tossing the whole thing out the window and starting fresh. I didn't feel very cheerful last year, so that was probably clouding my vision a bit. I wanted to get a set of matching bulbs and all white lights. I wanted a big bright glowing star instead of the cheap, unlit one we've had since our first Christmas tree as a family. But I kept our traditional tree anyways, and this year I'm so glad I did.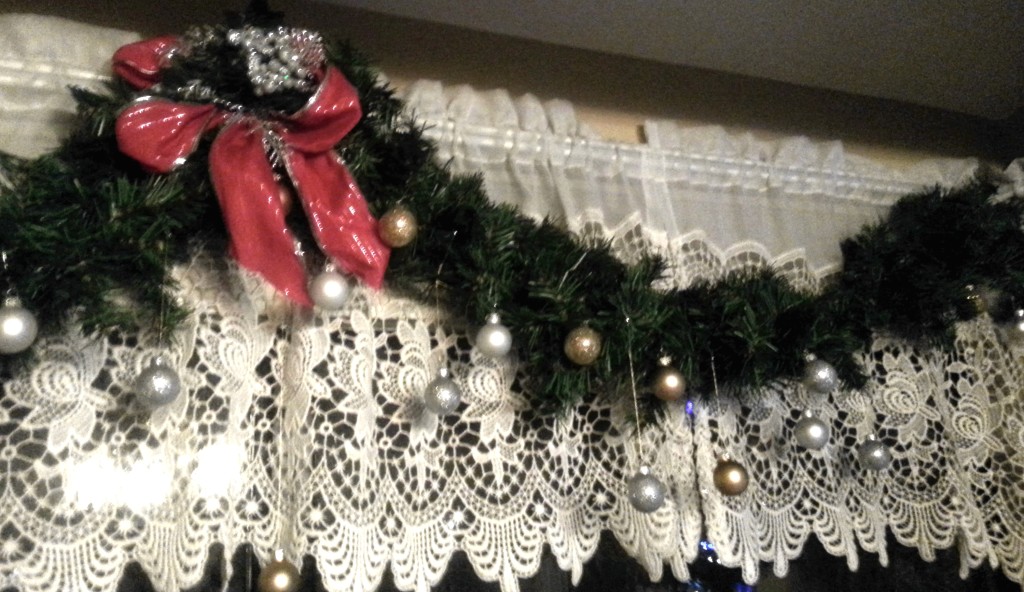 This year I've decided that we have the absolute best Christmas decor on Earth. "Laziness" is my decorating style in general, as is "Using Stuff We Already Have." The later is represented with the garland I have hanging in the window. The faux evergreen is the exact same one I have hung every year, always in a different place. At times I have twisted it up around itself and used it as a wreath. I have hung it from the fireplace mantle. I've strung it on nails from our front porch. I spent $1 on it at the Dollar Tree the year Rob and I got married. The bow is from a gift basket we received from Rob's previous job. And the glass bulbs I've hung from every different place you can think of in years past. I bought them the second year of our marriage for $8 at World Market. Looking good, cheap stuff.
We have a fake tree because I'm allergic to pine. My husband has come to terms with it, though he was a real tree purist when we met. The tree decorating is great fun no matter how real it is when you're a little girl, so I put it up the Saturday after Thanksgiving and let the kids go to town. There are many color coordinated trees which I covet in other families' homes. But our tree is what I'd like to call "eclectic." See below for an example: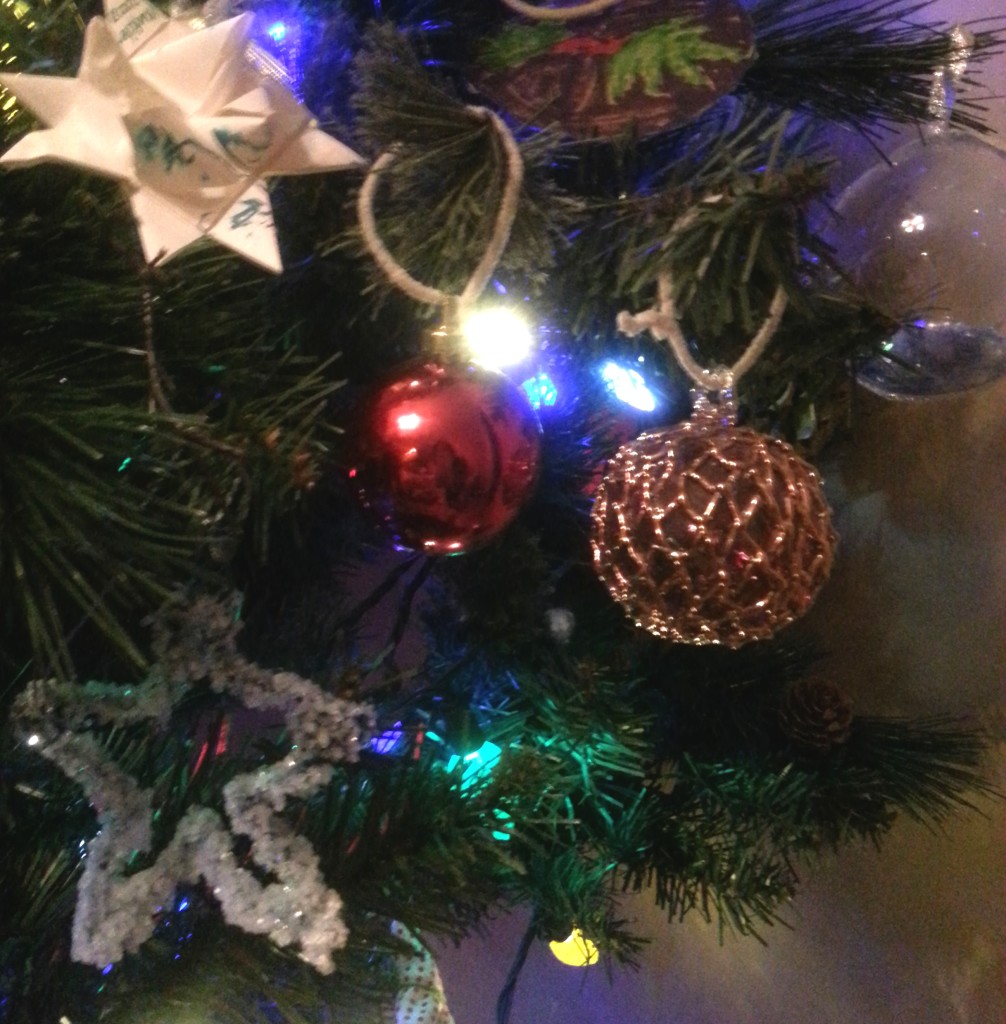 Here we have a plastic bulb which came from the same Dollar Tree purchase as the aforementioned garland; an irreplaceable glass ornament passed down from Rob's grandparents, which I believe came from Morocco; a pipe cleaner with Borax crystals on it in the shape of a star; a paper origami star gifted to us by a friend; and a piece of paper colored with marker and cut into a circle.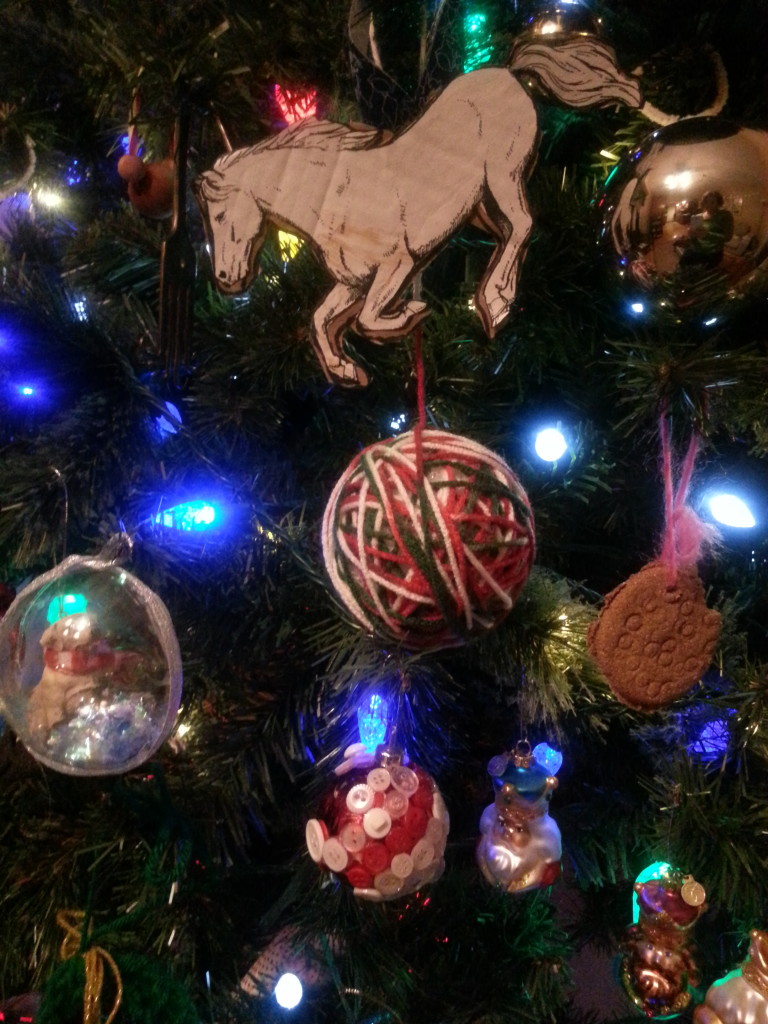 And here we have a bulb I made out of apple packaging from Costco; a button covered bulb I made 7 years ago; three of the glass nativity themed ornaments Rob's mom gave us a few years back; a cinnamon salt dough ornament; a glass bulb I bought at the thrift store; yarn I wound up and hung in the tree; and a cardboard horse cut out by one of the girls.
Basically, I let the kids hang whatever the heck they want to in the tree. If it gets hung in the tree, I put it lovingly into the decorations bin at the end of the season and the next year it becomes a treasured ornament lovingly placed with care on the tree for the rest of our lives. The result is a very full tree. It doesn't even match itself, but I love it.